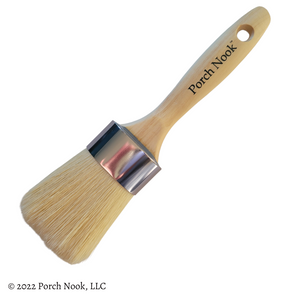 The Best Furniture Painting and Wax Finish Brush, by Porch Nook
Regular price $29.99 Sale
FREE SHIPPING on this item!
Transform your furniture painting projects with The Best Furniture Painting and Wax Finish Brush, by Porch Nook! This unique brush design allows you to cover large and small areas with ease, ensuring an even application every time. The PBT synthetic bristles are hand-shaped and hold color like no other brush. The kiln-dried white birch handle is balanced for reduced fatigue, making even the longest painting sessions a breeze. Perfect for use with water-based paint like Porch Nook Furniture Paint, and also ideal for wax sealant application. Clean-up is a breeze with just soap and water. 
Price is for one (1) brush.
Features include:
Recommended for water-based paint, like Porch Nook Furniture Paint.
Features include PBT Synthetic bristles.
Multi diameter straight and crimped material.
Hand shaped to rounded chisel dome.
Fill material is double epoxied into a stainless-steel double thick seamless ferrule.
A solid wood, kiln dried white birch beaver tail shape handle is double epoxied into place and filled to the edge of the stainless ferrule to insure the ideal balance between head and handle.
With the weight of the brush at the top it ensures the perfect balance at the working end of the brush to reduce fatigue in painting.
Dimensions: overall 2-1/2"W x 1-5/8"D x 8-1/4"T, bristles 2-1/2"W x 1-1/2"D x 2-1/2"T.
Weight: 3 oz.
How to clean:
When using water-based paints (like Porch Nook Furniture Paint) just use soap and water.
Hang upside down to dry.