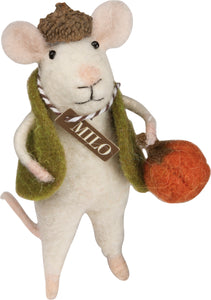 Rustic Wool Felted Pumpkin Mouse, "Milo"
Regular price $19.99 Sale
FREE SHIPPING on this item!
With love of autumn in his heart and pumpkin in hand, "Milo" is ready to share his favorite season with you! This handsome needle felted mouse is adorned with a genuine acorn cap, cozy vest, and holds a pumpkin. Great to display with other critter styles or gift to a collector. You can pose it or use the clear filament hanger for easy decorating.
More information on this product:
Dimensions: 4-1/2" tall
Each mouse is sold individually.
Weight 1 oz.
Made with wool felt, fabric, wood, wire, and wood.

For decorative purposes only, this is not a toy. This product is not considered a toy and contains small parts not suitable for children under 5 years as they pose a choking hazard.